Class ProcessEvent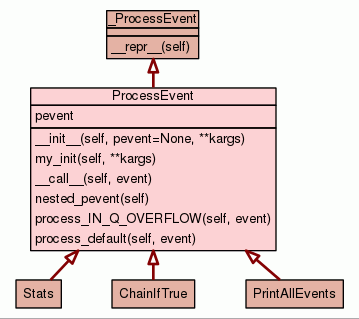 ---
Process events objects, can be specialized via subclassing, thus its behavior can be overriden:
Note: you should not override __init__ in your subclass instead define a my_init() method, this method will be called automatically from the constructor of this class with its optionals parameters.
Provide specialized individual methods, e.g. process_IN_DELETE for processing a precise type of event (e.g. IN_DELETE in this case).
Or/and provide methods for processing events by 'family', e.g. process_IN_CLOSE method will process both IN_CLOSE_WRITE and IN_CLOSE_NOWRITE events (if process_IN_CLOSE_WRITE and process_IN_CLOSE_NOWRITE aren't defined though).
Or/and override process_default for catching and processing all the remaining types of events.
bool

process_IN_Q_OVERFLOW(

self

,

event

)
By default this method only reports warning messages, you can overredide it by subclassing ProcessEvent and implement your own process_IN_Q_OVERFLOW method.
source code

Inherited from _ProcessEvent: __repr__

Inherited from object: __delattr__, __format__, __getattribute__, __hash__, __new__, __reduce__, __reduce_ex__, __setattr__, __sizeof__, __str__, __subclasshook__
Inherited from object: __class__